In Chicago's Near West Side neighborhood just off Historic Route 66, sits a limestone building that has been home to Hope Academy and its family of faculty, staff, and students since welcoming the first class of Freshmen and Sophomores in August of 2005. Since then, the school has grown and built a reputation of preparing students to become well-rounded members of society, ready for college, trade school, or wherever life takes them after graduation. In the past 15 years, the private Christian school boasts impressive 100% graduation and college acceptance rates and continues to commit to small class sizes, averaging 12 students per class with a student to teacher ratio of 10:1.
Hope Academy also partners with the University of Chicago Booth School of Business's Alumni Club to offer more experience to students interested in entering the business world, which is how Pangea learned of the school and subsequent partnership. Since the start, Pangea has been invested in the lives of our young residents and neighbors, and through our 501c3 nonprofit Pangea Cares, has partnered with local organizations and developed programs of our own such as our paid summer internship (accepting applications for summer 2021 now!). When a Pangea employee and Booth alumna brought us an opportunity to join Hope Academy's series on personal branding earlier this year, we had no issues finding volunteers for the virtual event. Then when in-person events started happening again, Pangea had another opportunity to present on the real estate industry specifically.
Personal Branding and Social Media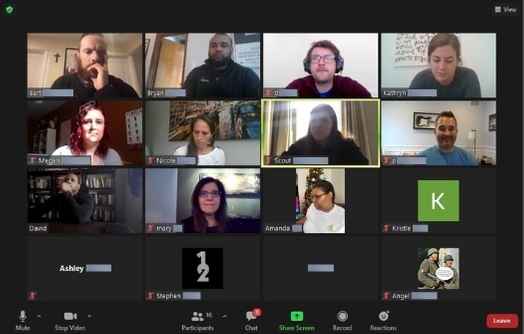 In early 2021, Hope Academy and UChicago Booth School of business hosted a four-session extracurricular series on personal branding for Juniors and Seniors to help prepare them for the next stage in life. Pangea was proud to join for the fourth and final session, focusing on social media and personal online reputation management. Prior to the presentation from Pangea Sr. Marketing Analyst Megan Davidson, an informal survey found that the average Hope student spends over three hours on social media per day, and a whopping 25% claim to spend over 12 hours on the sites and apps. Every student surveyed was on at least three platforms and it was clear from survey results that they understood the importance of a well-maintained digital presence in the information age.
Chicago Hope Academy teacher, Bart Marchant said after the presentation, "Megan Davidson and the Pangea team enlightened and uplifted students and staff alike from Chicago Hope Academy, providing them with tools to build and maintain professional LinkedIn, Facebook and other social media profiles.  Drawing on personal and professional experience (both positive and negative!), they engaged students in a dynamic session which reinforced the importance of social media and helped them refine their digital presence."
Kheler Carr, one of the students in attendance and class of '22, especially enjoyed the small group discussion during the second half of the hour. "The breakout room I was in was great! They informed me a lot about social media and the ways that college professionals look into it and why they look. I liked that I got to do more of the talking because they found what I was saying interesting, and the questions caused me to think more of how important social media is."
Real Estate as a Career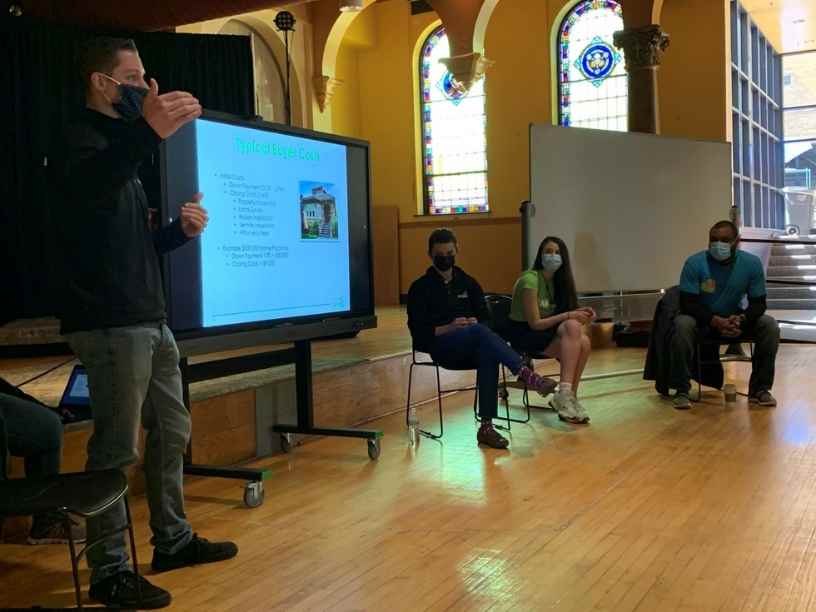 After the success of Pangea's first event partnership with Hope Academy, we knew we wanted to continue to work with the school and its students, and we thankfully didn't have to wait long for the next opportunity. Thanks to the lifting pandemic restrictions, this time we were able to meet in person and engage with the 20 or so students and interested parents face-to-face rather than the previous video chat presentation.
Seven current Pangea employees from several different departments volunteered to introduce the students to the real estate industry as a whole. They talked about different asset classes and real estate jobs through a trivia game, shared personal experiences about what a career in real estate could look like, and conducted a rent vs. buy exercise to expose students to the benefits and costs of renting vs. buying property. The seminar closed off with a Family Feud style game to recap the seminar in an engaging way.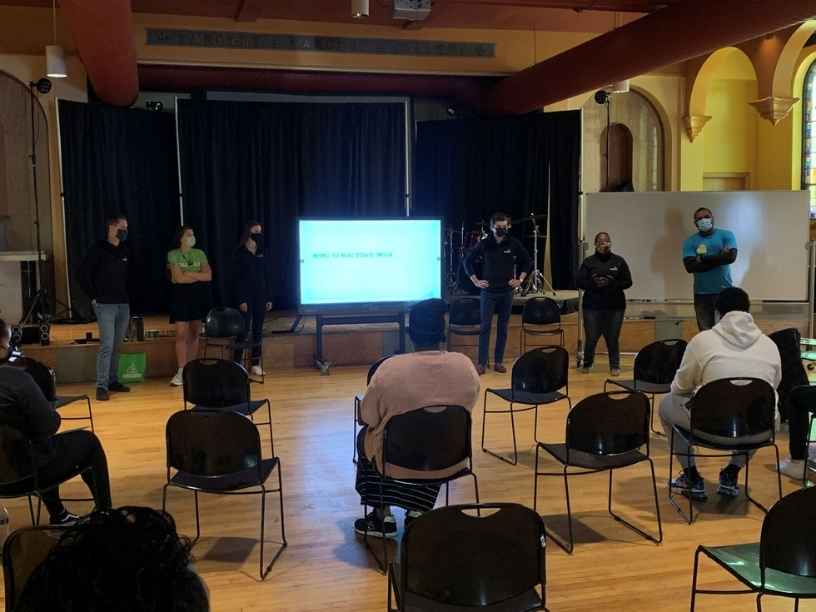 The students in attendance demonstrated clear interest in the topic at hand, asked thoughtful questions, and requested the materials presented after the event, though they weren't the only ones to gain insight from the seminar!
Brian Pawl in Asset Management said he "really loved participating in this event." He went on to say, "To see the genuine interest in real estate from the students and even the parents that attended was something I wasn't expecting. The students asked thoughtful questions that showed they were paying attention to the material and were curious about how it could apply to their own lives. Playing the Family Feud trivia game at the end of the presentation was a great way to wrap everything up while also getting the kids up out of their chairs and excited about participating and showing off what they learned over the previous hour."
Mirroring those sentiments, Pangea Mortgage Capital Investment Associate Jack Laughlin said, "High school and college speaking events are critical to shaping the next generation of real estate talent. While students are finally receiving an increased exposure to the industry, few see it as a potential career path, and this is where Pangea can make a difference – we have the opportunity to flex our diversity in roles due to our vertical integration. I loved the opportunity to speak at Hope as you could tell the students and teachers alike were engaged and genuinely interested in learning about the different careers that all live under one roof."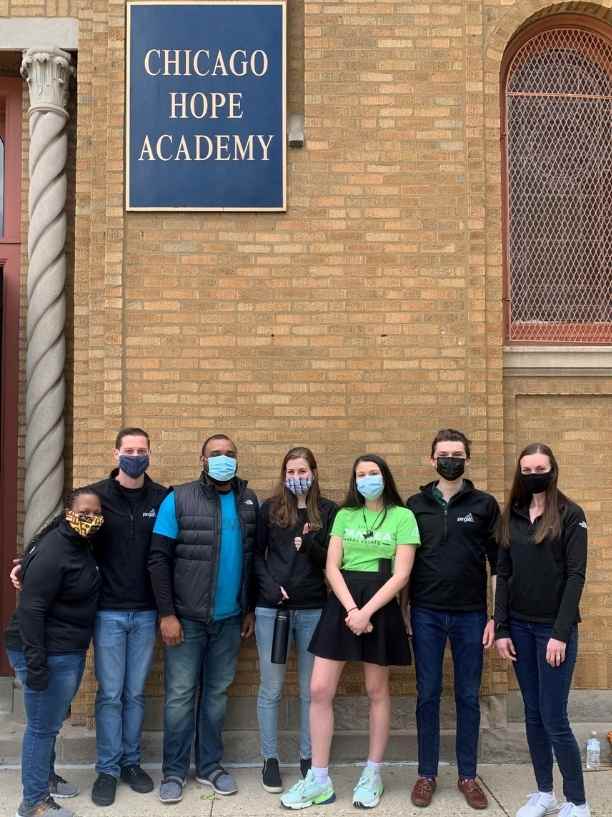 Pangea Cares Pillar: Education Enrichment
Pangea, both as a whole and as individual employees, enjoys being able to give back to the communities we serve and do what we can to encourage the next generation. You can learn more about Pangea Cares and our three pillars, or three main focuses of community service – Food & Nutrition, Education Enrichment, and Community Development – on the Pangea Cares website.
You can also learn more about Hope Academy and the Booth Alumni Club on their websites. We can't wait to see what other seminar and educational opportunities Hope Academy welcomes Pangea to in the future and hope to continue the partnership for years to come.